When you were a child, you might remember sitting down with a friend or sibling now and again to play a game of "War."
It may come as a surprise to some, but a gambling version of "War" exists at online casinos. It is simply known as "Casino War."
To teach you how to play Casino War, we have put together a detailed guide. Below, we talk about Casino War basics. Then, we discuss the game's appeal, its rules, and the best way to play it to extend your bankroll.
You can scroll down past these sections to find out where to play Casino War online now.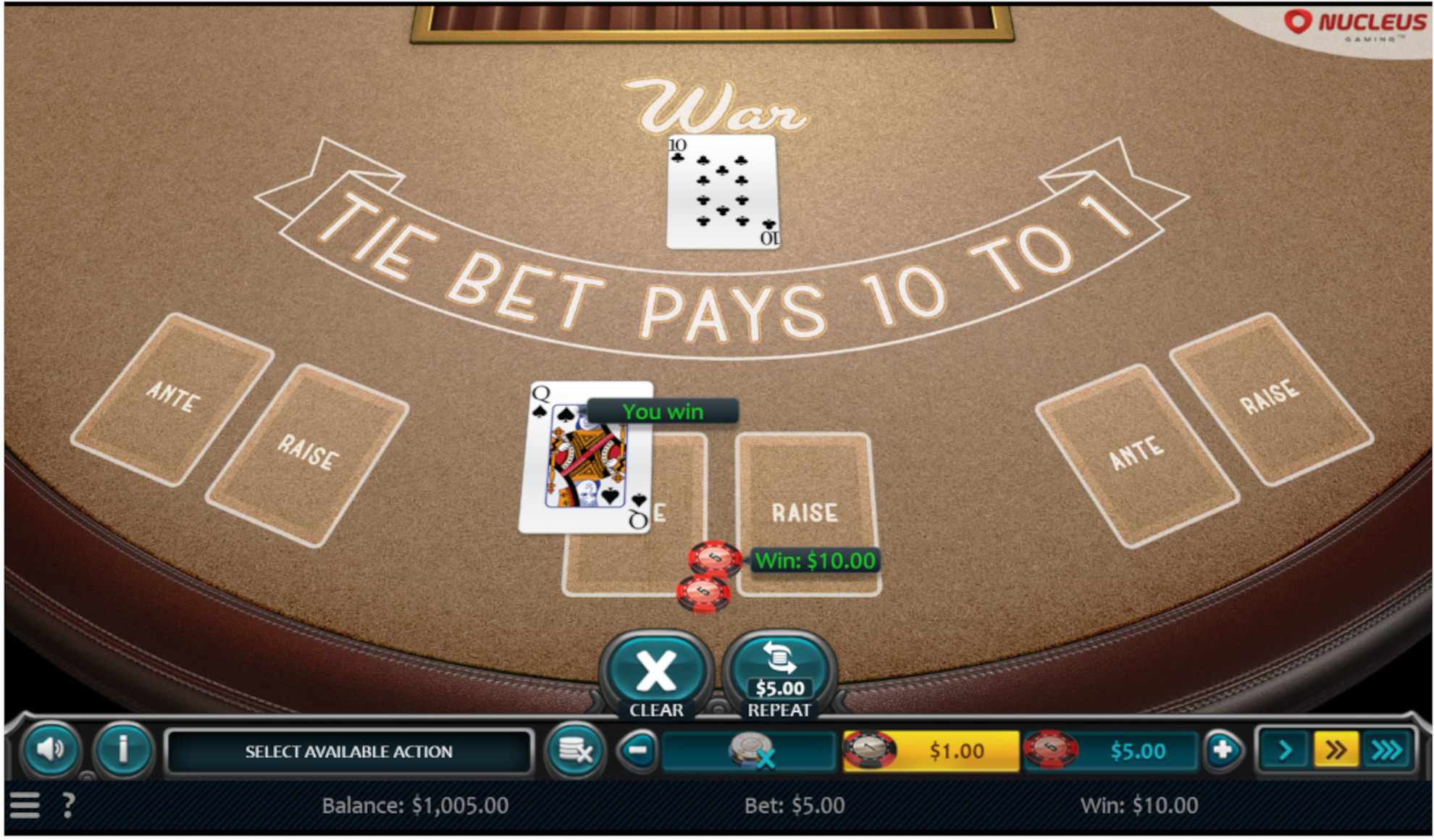 What is Casino War?
Casino War is a casino game that is based on the popular children's card game "War."
Here is how the original children's game is played:
You shuffle a deck of cards, split it in half, and give each player half the deck. You then each turn over a card to see whose card has a higher point value. If you have the higher value card, you take your opponent's card and keep it with your own. If your opponent had has a higher card, they win yours.
Sometimes, both your cards might have the same value.
When that happens, you "go to war" with your opponent. You each take three cards and place them face-down, followed by another face-up.
Whoever has the higher value face-up card gets to claim all of the cards that were just dealt.
In some cases, equal values might be dealt again, and then there is another war, and so on.
That is basic War. There are also variations like Prisoners of War, Beggar Man, Life and Death, Automatic War, Peace and Underdog.
Casino War is very similar to this original War card game.
For each round, you and the dealer both receive a face-up card. The higher value card wins. If the values are the same, then you can either "go to war" or you can "surrender."
But the big difference is that you are not playing to claim cards and build a bigger stack—you are wagering money instead.
Why Play Casino War?
Here is why Casino War is a fun game to play:
Bring back childhood memories.
One reason to play Casino War is if you enjoyed the game of War when you were young. You can recapture some of those memories in a more grownup way when you are playing the casino version of the card game.
Play a game you can learn quickly.
It is unbelievably easy to learn how to play Casino War. That may be especially true if you played the childhood War game, but it is also true if you didn't!
It is easy to make the house edge as low as possible.
In fact, we could compare War with Three Card Rummy or baccarat. A couple simple rules are all you need to follow.
Hands are quick.
Find out in seconds if each one wins or loses.
What are the Rules of Casino War?
Now let's go over the rules of play for Casino War.
Casino War may use anything between 1 and 8 decks. It is typical for it to be a 6-deck game.
Cards rank the same way they do when you play poker.
An ace always has a high score of "11," not "1."
Play progresses as follows:
The Initial Bet and Deal
Make your initial bet.
Two cards are dealt—one to you, and one to the dealer.
The two cards are face-up, so you can immediately compare them to see which has the higher value.
Three outcomes may result from this initial deal:
The dealer's card may have a value that is higher than yours. If so, you lose.
The dealer's card may have a value that is lower than yours. If so, you win.
It is possible for the value of your card and the dealer's card to be the same, resulting in a tie.
At this point, you can either choose to go to war or surrender.
Surrendering means that you forfeit half of your initial bet. The other half is returned to you, and you can use it keep playing. You will need to place a new bet, initiating a new hand.
War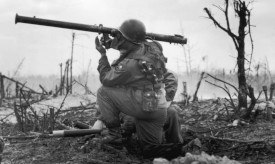 Now let's talk about what happens if instead of surrendering, you go to war. Play continues:
You begin by raising your bet. The raise amount has to equal the original stake amount. So, you are in effect doubling your initial wager.
The dealer will also double their bet. This really is insignificant. Remember, they are playing with the house's money. But it adds to the drama.
The dealer burns three cards. This is kind of like the stage in the children's game where three cards are dealt face-down.
The dealer puts two more cards down-face up, dealing one to themselves and one to you.
The possible outcomes are as follows:
Your card's value is higher than the dealer's card value. You win your raise bet, but your original bet is a push.
Your card's value is lower than the dealer's card value. You lose both bets.
There is another tie. The value of both cards is the same.
Depending on which variant of Casino War you are playing, either of the following scenarios will now happen:
It is possible that the outcome will be the same as if you had won — you win the raise bet, and the original bet is a push
Or…
You once again find yourself with the same decision to make: do you want to go to war or surrender? If you go to war, the dealer will once again burn three cards, deal two more, and you will see which has the higher value, if either.
We should also mention that some variants of Casino War include the opportunity at the start of the game to make a "tie bet."
The tie bet is a side bet where you can wager that there will be a tie. Winning the tie bet can result in a 10 to 1 payout.
We also have heard of variants where two ties in a row results in a bonus equal to your opening wager.
Is Casino War Random?
Since you can make decisions when you are playing a game of Casino War, you might wonder whether Casino War is a random game or not.
The answer is that your decisions can affect the house edge, but they cannot alter the randomness of the outcomes.
We will explain more about this in the section below regarding the house edge.
As an interesting aside, the original card game of War is also random if it is played with a shuffled deck every time.
But sometimes, kids choose not to shuffle the deck after a game is complete.
The player who wins a hand of war gets to claim two cards to add to their deck.
So, they can decide which card to put down first — theirs, or their opponent's.
That means that if they are thinking ahead to their next game, they can attempt to strategically order the cards.
So, the results of the next game will be related to the results of the previous game.
But this is never going to be the case with a digital version of the game. Every single hand is always going to be completely random, and there is no way you can have any control over which cards come up in which order.
Casino War House Edge
There are a few different factors that can influence the house edge when you are playing Casino War. These include:
How many decks are in use
How liberal the rules of the variant are
Whether or not there is a bonus
The more decks are in use, the higher the house edge will be. If there is no bonus, that also increases the house edge.
The very lowest house edge that is possible with Casino War is 1.24%, which is quite low.
This makes the game a suitable choice for anyone who likes to make their bankroll last as long as possible.
If you look up tables for the house edge for this game you will discover that consistently, the house edge is higher if you surrender than if you do not.
The optional tie bet can be tempting because of its 10:1 payoff.
Nonetheless, the house edge for the tie bet is extremely high, even ranging above 18%.
Why Does Casino War Have a House Edge?
While you might be satisfied with the description of the house edges for this game above, you might still be curious about why this game even has a house edge.
You would think that with each round, you get a card, and the dealer gets a card, and therefore there would be 50/50 odds on which of you gets the higher card.
That much is true, but the situation of the tie is really where the house edge comes into play.
Remember, in the case of a tie, you have two options available to you:
Double your bet and go to war,
Or…
Surrender and lose half your original stake.
In either case, the house has an advantage.
As we just discussed, the house edge is higher if you surrender, so you always want to go to war. Losing half your stake on each surrender does not play out in your favor.
But here is the thing — if you decide to go to war, doubling your wager will not double what you can stand to win.
Your original bet pushes if you win at going to war, with only your raise bet paying out.
That means in effect that you are wagering a larger amount of money for a chance at winning a smaller amount of money.
To understand why this is not to your mathematical advantage, let's take a look at an example.
Imagine that your initial bet size for all of your hands is $5.
Now, picture the scenario that unfolds when you go to war with the dealer. In order to do so, you are required to raise $5. Your initial stake plus your raise now equal $10 worth of risk, but if you beat the dealer, you are not going to win $10. Instead, you will only get $5.
Now, think back to the fact that every time the dealer draws two cards, one for each of you, you both have an equal chance of winning or losing. That means that over many hands, you could expect to win roughly 50% of the time when you go to war, and lose roughly 50% of the time.
So, here is an example of how this might play out across 20 hands:
W: $5
L: -$10
W: $5
W: $5
L: -$10
L -$10
L: -$10
W: $5
W: $5
W: $5
L: -$10
W: $5
L: -$10
W: $5
L: -$10
L: -$10
W: $5
W: $5
L: -$10
L: -$10
So, you won 10 times, and you lost 10 times.
That means you won 10 x $5, and lost 10 x $10.
$50 – $100 = -$50
So, in this scenario, you end up $50 in the hole. Now you can understand why Casino War has a house edge, however counterintuitive it might seem.
On a side note, if you bet on sports, this also may help you understand why it is unwise to bet when the odds do not offer value.
What is the Strategy for Casino War?
Based on everything we have talked about above, you might already have figured out the optimal strategy for playing Casino War.
But just in case you haven't, here are the rules:
Do not place the tie bet.
Doing so is a waste of your money as the house edge is so bad. Say "no" to this bet every time the option comes along.
Never surrender.
Go to war every single time the option is available.
That is the entire strategy for Casino War in a nutshell. Pretty easy, right? You can just make identical plays for every single hand.
That makes it a great choice if you want to relax and not think too much while you are playing online casino games.
But as simple as this game is, it is endlessly engaging — you can play a lot of hands fast. Watch out, because it is easy to lose track of time when you are having such a blast.
Where to Play Casino War
Now that you have had a chance to discover the game of Casino War, where can you play it? Let's take a look at some top recommended casinos for this fun and simple game!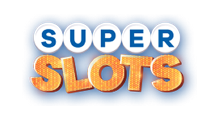 SuperSlots is a website we are new to in comparison to some of the others on our list, but we are loving what they have to offer — including a thrilling selection of table games.
As a matter of fact, when we look at that selection right now, we see a couple of different versions of Casino War.
There is a basic version of Casino War, and a multi-hand version of Casino War. The multi-hand version is promoted as having "10x WINS." It also includes the side bet if that is something that interests you (it may not be strategic, but it can be fun, so why not?)
This website offers a hefty selection of fun and lucrative promotions and bonuses. These include a $6,000 Welcome Bonus, a 400% Crypto Bonus, a 5% Bitcoin Boost, a 10% Weekly Rebate, VIP Reloads, Tuesday Top Ups, and Hump Day Specials. The site also gives out more than a Million Dollars in Monthly Prizes!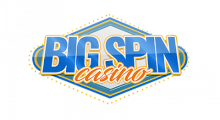 Like Super Slots, Big Spin Casino is pretty new to us, but so far we've enjoyed our time gambling there.
If you head over to the table games section of the site, you can find a Casino War game called "Top Card Trumps."
Just as Big Spin Casino isn't lacking in table game action, they also are not lacking in bonuses and promotions.
You will want to check out the a 200% Sign-Up Bonus Up to $1,000, and 150% Reload Bonuses Up to $1,500, as well as Reload Weekend, which offers bonuses of 400% up to $2,000. Don't miss out on the Player of the Month Award or the blackjack or slot tournaments either.

One of our top recommendations both here and over on our sister site Good Sportsbooks is the US-facing sportsbook BetOnline.
This website has been making it fun and easy to gamble online for more than two decades.
This site offers Top Card Trumps as well as MultiHand Casino War. So, with a couple of variants to enjoy, you should be entertained here for a long time.
BetOnline offers the following promotions: a 50% Sports Welcome Bonus, a 5% Bitcoin Boost, a 100% 1st Time Crypto Bonus, a 100% Casino Welcome Bonus, a 100% Poker Welcome Bonus, a 35% Crypto Reload Bonus, and a 25% Sports Reload Bonus.

Another big name in both online casino gambling and sports betting is MyBookie. The site has a strong reputation, and is especially popular among gamblers in the USA.
If you visit their selection of table games, you will see you can play Casino War.
Be sure to grab bonuses like Double Your First Deposit, a 10% Cash Bonus Up to $200, and a 150% Casino Bonus up to $750. Throughout the week, you can also claim Weekday Reload Bonuses, Rebate Special Mondays, Free Spin Wednesdays, Raffle Thursdays, Pick 'Em Fridays, and Casino Bonus Weekends.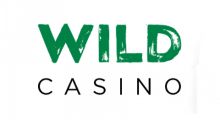 The next casino we recommend if you want to play Casino War online is Wild Casino. This Panama based casino offers flexible deposits and withdrawals together with a large selection of slots and table games.
You will find that along with a basic variant of Casino War, this website also offers the MultiHand Casino War game.
Promotions you can claim at Wild Casino include a $5,000 Welcome Bonus, a 5% Bitcoin Boost, a $9,000 Crypto Deposit Bonus, a 10% Weekly Rebate, a VIP Reload Bonus, Tuesday Top Ups, and Hump Day Specials.
You also can participate in tournaments for a shot at $1,000,000 in Monthly Prizes. And be sure to participate in the $5,000 CASH Slots Tournament!
Play Casino War Now
That wraps up our in-depth guide to Casino War and top online casinos that offer variants of this game.
Ready to play Casino War, one of the simplest and most exciting card games around? Click on any of the links in this post to open your account, claim your bonus, and go to war now!