Looking for a poker game to play that is a little bit different from your standard Five Card Draw or Texas Hold'Em? One game that might pique your interest is Vegas Three Card Rummy, also sometimes just called "Three Card Rummy."
In this guide, we will tell you exactly what Three Card Rummy is and how to play it. We will also introduce you to some quality online casinos that are offering this exciting card game!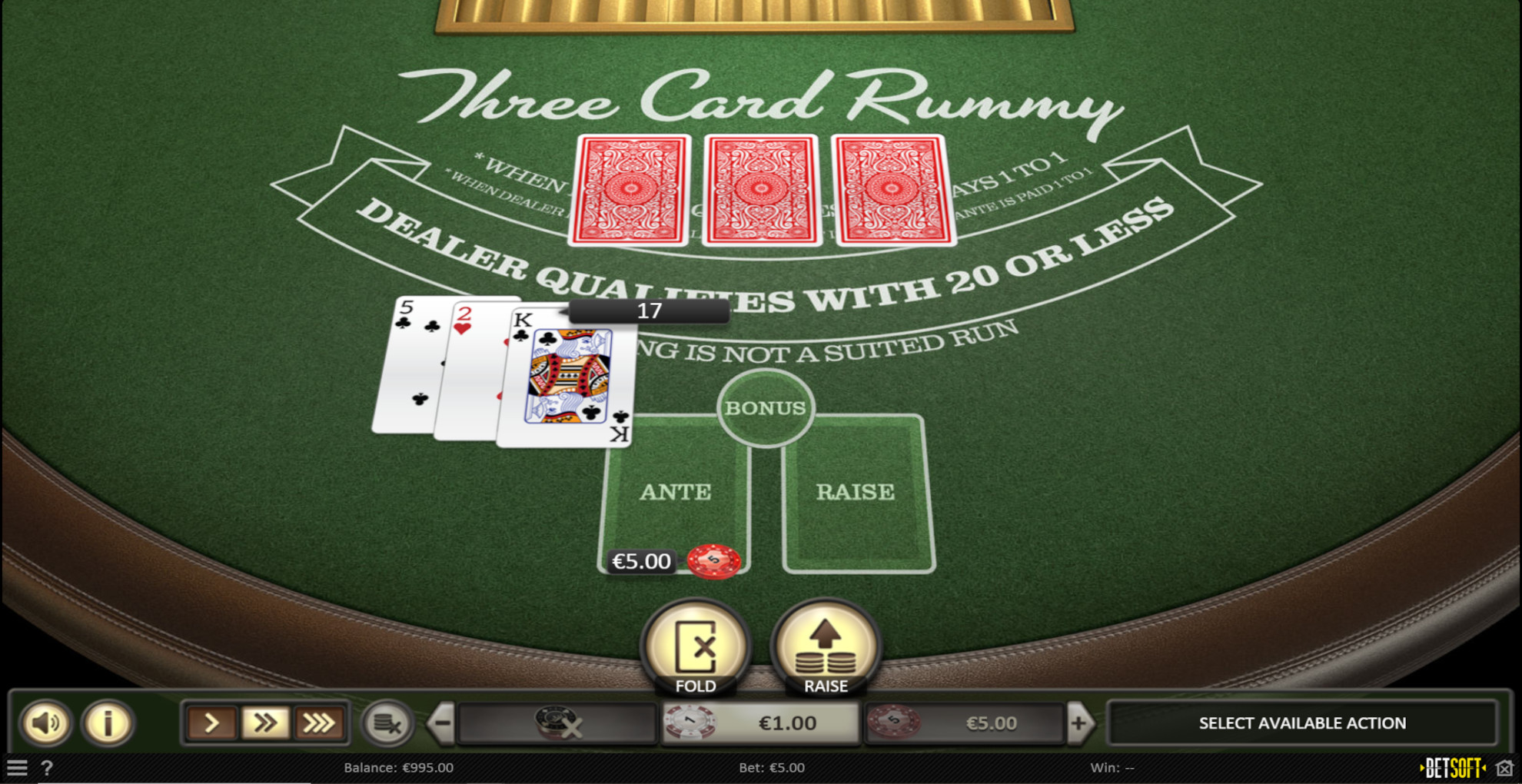 What is Three Card Rummy?
Vegas Three Card Rummy is a variation on poker. It is offered by Real Time Gaming and Cryptologic casinos.
The game is played against a dealer. The player and the dealer are both competing to produce a hand with a lower value.
While Three Card Poker is the game that is most similar to Three Card Rummy, elements of rummy as well as another game called "Panguingue" are also present in Three Card Rummy.
So, if you have experience with any of these games, it should be pretty easy for you to transition into playing Three Card Rummy.
But even if you haven't, it is still a fairly easy game to learn.
Reasons to Play Three Card Rummy
One good reason to considering giving Three Card Rummy a try is just to get away from playing the same poker variants you usually do time and again. It is always nice to break out of your routine and have a fresh experience.
Simple and Easy to Learn.
There is nothing complicated about Three Card Rummy. Even if you do not have much experience with other types of poker, you should pick up on the rules of this game quickly.
Playing through a hand of Three Card Rummy does not take long at all. So, you can play through a whole series of hands rapidly if you want.
This is a strategic game. If you play in an optimized fashion, you can minimize the house edge. But here's what's even better—the strategy is ridiculously easy to learn. And unlike with blackjack, you do not have to memorize a lot of scenarios and plays.
Reasonably Low House Edge.
The house edge for Three Card Rummy is not all that high in the first place (3.46%).
You can see that we were doing our test playing over at GTBets. Did you know that if you were to join up over with them right now you could get a Welcome Bonus of 115% up to $500? Just use our special code "TD115" when making your initial deposit!
Also, we mention 'Tri Card Poker' in this article. If you want to know more about that game, just check this out!
What are the Rules of Three Card Rummy?
Now that you know some reasons to play Three Card Rummy, let's go over the basic rules of play.
A 52-card deck is used to play Three Card Rummy.
The player is competing with the dealer. Each party's goal is to get the lowest value.
Standard poker values are used for the card values. Each face card has a value of 10. Aces are worth "1," however, with no exceptions.
If you have a pair, it is worth zero points.
If you have three of a kind, it is worth zero points.
If you have two or more suited cards in a "run," they are worth zero points. By a "run," we mean that the suited cards are sequential.
So, if you had a hand that consisted of the two of clubs, three of clubs, and four of clubs, for instance, that would be a there-card suited run, and the entire hand's value would be 0. But, if you had a hand that consisted of a two of clubs, three of clubs, and five of clubs, only two of those cards would be part of a suited run and count for zero points. The five of clubs would retain a value of 5, so the hand's value would be 5.
Also, note that if you have a two of a kind, the two of a kind is worth zero points, but the value of the remaining card still counts.
Play proceeds as follows:
Begin by making an ante bet.
You will be given the option to make a bonus bet. You can take it or leave it.
The dealer deals you three cards face down, and also deals three face down for themselves.
Take a look at your cards. Decide whether to raise or fold based on the value of your hand and what you think the dealer might have.
If you decide to raise, put down another bet with the same value as your ante bet.
Now the dealer reveals their hand.
There are a few possibilities at this point:
If the dealer's hand is worth more than 20 points, it does not qualify. If that is the case, you receive even money for ante bets, while raise bets push.
If the dealer's hand is worth less than 20 points and is lower than your hand, you lose all bets you have placed.
If the dealer's hand is worth less than 20 and is higher than your hand, you win all the bets you placed.
If there is a tie, it is a push.
How do your bets pay out if you win? You get even money for your ante bet. If you raised, there is a table that determines how much you win based on the value of your hand. But it is pretty simple:
If your hand added up to 6 or more points, then the payout is 1:1.
If your hand's value was 1-5 points, then the payout is 2:1.
If your hand had a 0-point value, then you receive a 4:1 payout.
Did you place the optional bonus bet? Here is the pay table:
Hand Value
Payout
Suited A23
100: 1
0 points
25 : 1
1 to 6 points
2 : 1
7 to 10 points
1 : 1
11 to 12 points
4 : 1
13 to 30 points
Loss
Three Card Rummy Strategy
Three Card Rummy does favor the house, but you can keep the house edge as low as possible by playing according to optimal strategy.
Not surprisingly, the risk for the bonus bet is higher at 3.46% than the risk for the ante (1.96%). So, you can avoid the bonus bet and just stick with the ante bet if you want to minimize your risk.
So, what is the optimal strategy for raising and folding?
You are going to laugh at how simple it is:
If the value of your hand is 20 or less, raise.
If it is 21 or above, fold.
That's it! There is nothing more you need to know.
If you break away from that strategy, you will lose more money than you need to.
With respect to its utter simplicity, the experience of playing Three Card Rummy is a little like that of playing baccarat.
In both cases, playing optimally literally just involves doing the same thing over and over.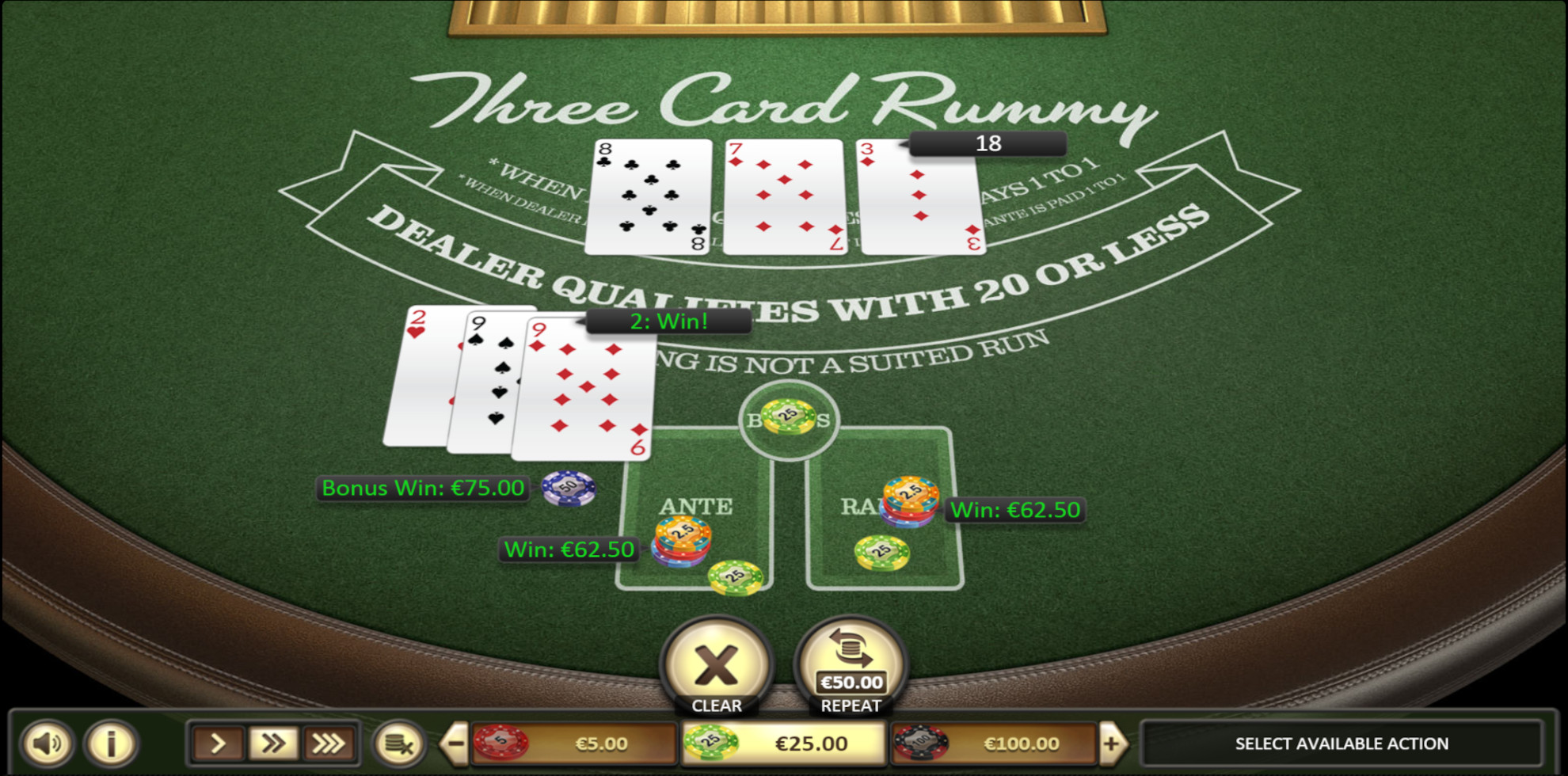 Where to Play Three Card Rummy
Now you know how to play Three Card Rummy! But where can you head to enjoy this fun card game? Below are our top recommended casino sites.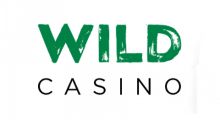 One of the absolute best places right now to play Three Card Rummy is over at Wild Casino. This online casino is based in Panama. We've come to love them for their huge selection of games along with their flexibility with respect to deposit and withdrawal options.
You will find Three Card Rummy prominently listed among their table games. Indeed, they boast a wide variety of table games in comparison to many other casino sites, so we suggest checking out everything they have to offer.
In terms of promotions, there is a lot to get excited about at Wild Casino. When you open your account, you can receive up to $5,000 in Welcome Bonus Cash.
Want to play Three Card Rummy with cryptocurrencies? Wild Casino offers up to $9,000 in Crypto Bonuses for your first five deposits. Plus, there is a limited time offer for a 5% Bitcoin Boost.
Other cool promos at Wild Casino include a 10% Weekly Rebate, VIP Reload bonuses, Tuesday Top Up, and Hump Day Special. There are also Daily Tournaments on the site with $1,000,000 in Monthly Prizes up for grabs.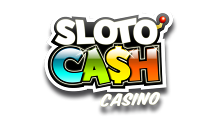 Our next recommendation for playing Three Card Rummy online is Slotocash. This online casino has been in existence since 2007. We have been playing with them for around a decade now, and have always been satisfied with the site's reliable, fast withdrawals and customer service.
Slotocash prominently promotes rummy and three-card poker alongside popular games like blackjack and video poker.
This website features a variety of bonus offers including a Slots Welcome Bonus, comp points, cash-back and daily promotions!


MyBookie is primarily a sportsbook, but the site also features a top-shelf casino with a variety of games including Three Card Rummy. It is one of the top online bookies for US gamblers, and has offered us a great experience consistently, whether we are wagering on sports or playing table games or slots.
Like Wild Casino, MyBookie features are pretty extensive selection of table games. So, along with Three Card Rummy, you will also want to take a look at their selection of roulette and baccarat games as well as other card games.
MyBookie does not disappoint in the bonus department, either. Promotions include Double Your First Deposit, a 10% Cash Bonus Up to $200, and a 150% Casino Bonus up to $750.
Additional bonuses include Weekday Reload Bonuses, Rebate Special Mondays, Free Spin Wednesdays, Raffle Thursdays, Pick 'Em Fridays, and Casino Bonus Weekends. So, every day of the week, there is a great offer you can take advantage of to add value to your casino experience.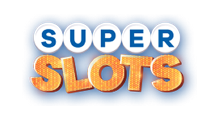 SuperSlots is one of the newer casino sites we recommend for playing Three Card Rummy. Although they are less established, however, the folks who run BetOnline and Sportsbetting manage SuperSlots. So, the quality is well-established.
There are plenty of other table games you can also enjoy at SuperSlots, including Casino War, Baccarat, Draw High Low, Spin to Win, and others.
Of course, you are going to want to know what types of promotions you can expect on this site. There is a $6,000 Welcome Bonus, a 400% Crypto Bonus, a 5% Bitcoin Boost, a 10% Weekly Rebate, VIP Reloads, Tuesday Top Ups, Hump Day Specials, and more (basically the same promotions that you can find at Wild Casino).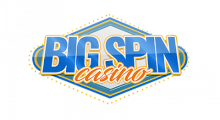 We don't have as much experience with Big Spin Casino as we do with some of the other sites on this list, but so far, we like what they have to offer. I am going to be frank—customer support can be a bit lacking, and the site has higher-than-average minimum deposits.
But the site runs well and features a great design, and there are plenty of fun games to enjoy. Among them, of course, is Three Card Rummy. Red Dog, Oasis Poker, Draw High-Low, and other table games give you plenty more to partake in as well.
What about bonuses? In this department, Big Spin Casino is packing a 200% Sign-Up Bonus Up to $1,000, and 150% Reload Bonuses Up to $1,500. On Reload Weekend, you can snag a bonus of 400% up to $2,000. You can also look forward to slot and blackjack tournaments as well as a Player of the Month Award.


BetOnline is a US-facing sportsbook that has been in business for over two decades. It also includes a casino. In fact, they are one of the most trusted and well-established names in this space.
There are tons of table games to play at BetOnline, including quite a few poker variants. Among them, you will find Three Card Rummy.
Promotions available at BetOnline include a 50% Sports Welcome Bonus, a 5% Bitcoin Boost, a 100% 1st Time Crypto Bonus, a 100% Casino Welcome Bonus, a 100% Poker Welcome Bonus, a 35% Crypto Reload Bonus, and a 25% Sports Reload Bonus.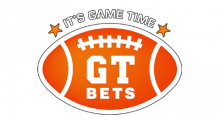 The next casino we recommend is the one over at GTBets, also known as Game Time Bets. As with a couple of our other suggested sites, this one is primarily a sportsbook, but it does offer a surprising amount in the casino side of the site.
They have a lot of table games to enjoy, one of which is Three Card Rummy. They also offer Tri Card Poker, if that is something that interests you.
One of the reasons we are big fans of this site is that they take a different approach to promotions than most. As they put it, they have a "Las Vegas Style Comp Program."
The site explains, "With your wagering account you are entitled to become a member of GameTimeRewards. GameTimeRewards is unique in the fact that it allows members to earn points on all casino, sports, horse and poker wagers. Points may then be redeemed for great prizes – ranging from free wagering cash, discounts on Airline flights or your choice of fine wines and cigars – the choice is all yours!"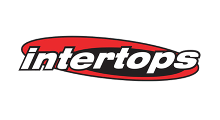 Moving on to our next recommendation, you might consider playing Three Card Rummy over at Intertops Casino.
Intertops, of course, also runs a sportsbook. And you probably know their name, since they have been in business since clear back in 1996! They are licensed by the Kahnawake Gaming Commission.
Along with Three Card Rummy, they also offer Tri Card Poker and other fun table games.
Exciting promotions at Intertops include a 125% Welcome Bonus Up to USD $1,000, the $5,555 Rookie Raise, the $30,000 Wheel of Fortune, the Mobile Award, and ongoing comp points.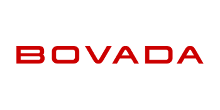 Not surprisingly, one of our top recommended sites for playing Three Card Rummy is one of our top recommended sites altogether, and that is Bovada.
There is no bigger name in US-facing sportsbooks and casinos. Bovada has been on the scene since the mid 90s, and over the decades, their selection of games and the overall quality of their experience has only continued to grow.
We've played Three Card Rummy in the past at Bovada. For whatever reason, we are having a hard time finding its listing now, though the live dealer help files talk about it. So, it seems availability of the game may come and go.
Regardless, Bovada's overall excellence plus its massive promotions (including a bitcoin casino bonus as high as $3,750) still make it one of the best options for playing Three Card Rummy.
Play Three Card Rummy Online Now
Ready to enjoy this simple, fast-paced, exciting card game? To claim your sign-up bonus and start playing Three Card Rummy now, just click on any of the links in this post!
And if You Just Want Some More Stuff to Read, Check These Out!