One of the big trends right now in the world of gambling is "social casino games." Arriving at this post, I am guessing you fall into one of three categories.
You play regular casino games and want to know if social casino games would interest you,
Or…
You do not gamble at all, and are thinking about playing social casino games,
Or…
You play social casino games, and want to know more about them.
In this post, I am going to address all three groups. We will discuss the basics of social casino games, their pros and cons, and differences between social casino games and real gambling.
If you are ready to make the jump to gambling for real money, I will also give you some pointers to help you get started.

What are Social Casino Games?
To understand what social casino games are, we will turn to a summary provided by Gambling Research Exchange Ontario (GREO).
According to GREO, "Social casino games are free-to-play gambling-like games found on social networking sites. Popular examples include Doubledown Casino, Slotomania, Zynga Poker and myVegas Slots. Social casino games differ from real-money gambling by several distinct features. First, social casino games do not require monetary payment to play, rather players' wager virtual credits. Second, they are based on or interact with social networking sites. Third, the outcomes are not always based on random odds but rather on algorithms designed to enhance player engagement and satisfaction."
While many social casino games are free-to-play as described above, sometimes they cost money to play.
Key Point: Social casino games are (usually) free-to-play games you can find on social networks. They do not pay real money, and are not random.
Who Plays Social Casino Games?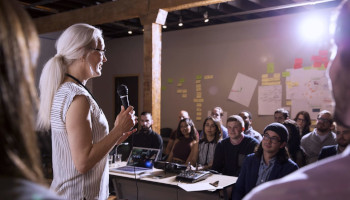 GREO reports that more than 170 million people are actively playing social casino games around the globe.
In fact, there are around four times as many people playing social casino games as there are people playing real online casino games!
As strange as that may sound, it does perhaps make sense. Not everybody necessarily wants to (or can afford to) risk money, but who doesn't enjoy paying games for fun? Plus, the player base for social casino games also includes young people who are not old enough to gamble.
GREO says, "Perhaps surprisingly, the average social casino gamer is a 40-year-old middle class woman and women make up over 2/3rds of social casino gamers (Superdata, 2016)."
Key Point: Social casino games are mostly appealing to a middle-aged, female demographic, but do have a diverse audience.
Why Do People Play Social Casino Games?
So, what exactly is the appeal of gambling without a chance to win real money?
Casino game fun for those who cannot gamble.
Again, not everyone can play with real money. For those who cannot, social casino games provide an alternative (that being said, we suspect some of these players may not be aware of the free play feature offered by many online casinos).
A pressure-free form of entertainment for background enjoyment.
Interestingly, a lot of social casino gamblers apparently also are doing other things while they are playing. GREO says, "Social casino games tend to be a secondary activity for most players, with 63% of social casino gamers reporting playing while watching television, whereas only about a quarter (27%) focus solely on social casino games (Superdata, 2016)." So, that sheds some light. One would not want to do this with real money at risk.
Stress relief.
GREO also states, "Motivations for playing social casino games are likely similar to motivations for engaging in gambling (Wohl, Salmon, Hollingshead, & Kim, in press). That is, people may play for fun and entertainment, to pass the time, to relax, relieve boredom or to distract themselves from negative emotions."
Social features.
What puts the "social" in "social casino games?" On sites like Facebook, some games feature leaderboards. So, players can check their rankings against others. Also, they can share their achievements in their feeds. This may be a major reason why these games attract so many players around the world.
Convenience.
If a person spends their whole day on Facebook or another social network, the very fact that social casino games are available right there is likely another reason why they are so compelling. They do not have to go looking for games to play elsewhere—they just stay right there on the site.
Onboarding for real gambling.
It is likely that at least some people who are playing social casino games are doing so as a stepping stone, with plans to eventually start gambling for real.
Rigged to be addictive.
Finally, let's consider what GREO mentioned before, that "outcomes are not always based on random odds but rather on algorithms designed to enhance player engagement and satisfaction." We can guess that those algorithms do a pretty good job keeping players coming back for more.
Key Point: People play social casino games for a variety of reasons, including convenience, social features, and the way that the games are algorithmically programmed to keep them hooked.
A question for the people: Ever have any interest in playing in some Poker or Slot Tournaments and wonder how they work? Well, check out this article!
For some of the best Slot Tournaments around, make sure to check out SlotsRoom where you can currently grab up to $10,000 PLUS 200 FREE SPINSjust for signing up!
Advantages and Disadvantages of Social Casino Games
Based on what we just went over, let's talk about some of the pros and cons of playing social casino games, especially as compared to playing real casino games.
Pros of Social Casino Games
You (usually) will not lose money.
One good thing about social casino games is that unless you are spending money on them, you are not going to lose money playing them. As most of them are free, that is great if your financial resources are limited.
You can enjoy the social aspect of the games.
For a lot of players, the social features of these games are a fun and unique benefit.
You can play right on sites you are already using.
You do not need to deal with opening accounts on new and unfamiliar websites to play social casino games.
You can figure out if you might be interested in gambling for real.
If you are totally new to casino games, playing social casino games may help you figure out if poker, slots, roulette, and similar games interest you.
Cons of Social Casino Games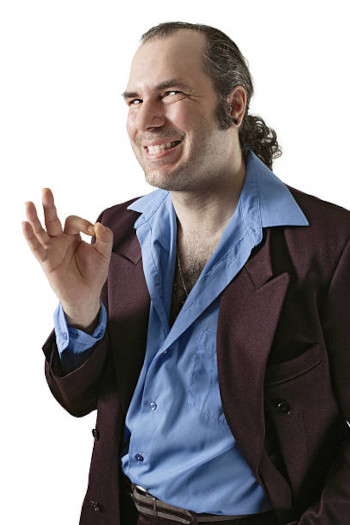 You will not win money.
One of the biggest drawbacks of playing social casino games is the simple fact that you will never win anything real. None of the "jackpots" you win will ever change your life or even help you pay your internet bill. There is zero financial payoff.
You are only kind of learning what real casino games are like.
However much social casino games might seem to be just like real casino games, that really is nothing more than appearances. In truth, they work so differently that they cannot be called the same thing at all. So, you are not learning as much as you think about real casino games by playing social casino games.
You might be really confused about randomness, probabilities, and real-life expected outcomes.
In some respects, social casino games are downright misleading. They pretend on the surface to be random, but they are not. In fact, even if you know that, it is hard not to be psychologically influenced by them. Something that looks like a slot machine is something you cannot help but expect to play like one. So, when you keep getting lucky, even if you know it is not really luck, it may still feel like luck. Add to that the fact that certainly not all social casino players even know there is a difference (more on this shortly), and you have a recipe for confusion—and possibly some seriously bad decision-making.
You are missing out on a ton of fun games you can only play at real casinos.
Online casinos have hundreds of amazing games to play! And there is only one way to try them—and that is to play at real casinos. You simply are not going to be able to experience them any other way. And if all you are doing is playing social casino games, you are missing out on all of them.
Key Point:
Social casino games have some advantages, but they have a number of drawbacks as well. In fact, they are pretty misleading.
A Bit More About the Non-Random Nature of Social Casino Games
I want to expand a bit on the "fake randomness" of social casino games. In my opinion, this particular drawback is massive.
Attorney I. Nelson Rose does a pretty good job at explaining this. He starts by describing the non-random mechanics at work:
"Payouts can be varied, even during the middle of a game. There is no law preventing a social casino game from paying out 75% or 125%. In fact, that is exactly what they do with Dynamic Game Balancing. If a player seems to be losing too much, and they might leave, the game automatically makes winning easier. And if the game seems too easy, so, again, players might get bored and leave, it is programmed to make winning harder."
Why is this a problem? He continues:
"If non-gamblers play a game that looks like a slot machine but pays out 125%, will they become more likely to gamble for real money? And how long will it take before they realize what the odds are on a true slot machine? Another concern is the lack of transparency. The European Union looks like it is going to require operators to tell players that the games are not what they seem. Right now, not a single social casino game informs players that the games are not really random."
Ouch. So, unless a player of social casino games does some research and discovers this fact, they may have no reason to suspect that the games they are playing are not random.
The idea of social casino players transitioning over to real life gambling doesn't in itself trouble us—we recommend it for reasons we will go over below.
But what does trouble us is the thought of those players not understanding that a real, truly random slot machine is not going to treat them the same way as one that was algorithmically designed to increase their engagement.
Such players might go in greatly overconfident, and stake far more money than they can actually afford. They will likely be completely shocked and overwhelmed by their losses.
Worst, they may still not grasp what is happening to them at that point, and still keep trying to get the types of wins they remember from social casino games.
But that is exactly why I felt the need to write this article. I want people switching from social casino games to real casino games to be informed and to be able to make responsible money management decisions.
Key Point: The world of social casino games is unregulated, and social casino games do not tell players that they are not actually random. As a result, players may be confused, believing that true random casino games are easier to win than they actually are based on their experiences winning non-random social casino games.
7 Reasons Playing at Real Online Casino Sites is More Rewarding Than Playing Social Casino Games
If you are playing social casino games now, are old enough to play for real, and have some extra money you can afford to lose, here is why I suggest you start playing real casino games instead.
You Can Actually Win Money!
You probably will not win as frequently with real casino games as you do with social casino games rigged to win—but hey, at least when you do win, you will get real payouts. That will never happen with social casino games.
You Will be Playing Real Casino Games as They Actually Are
It is misleading to consider a social casino slot a "real slot." You are not experiencing what real-life gambling is actually like.
But you can have that experience at a real online casino. And if you are not comfortable risking real money yet, you can just use the free play mode for now. At least your experience will be authentic.
You Will be Able to Develop Skills and Build Knowledge
Because social casino games are not real casino games, you do not develop any real casino skills while playing them.
But if you move over to a real casino, you can develop skills and knowledge like:
A greater understanding of randomness and probabilities
Money management skills
Strategic skills (i.e. for poker)
Memory and executive function skills
Skills reading and predicting people (again for poker)
Skills regulating your emotions, concentrating on what you are doing, and so forth
The Experience Will Be Much More Thrilling
Having real money on the line can add value to your experience in more ways than one. Not only can it give you the chance to win real money, but it can enhance the excitement of playing casino games.
As mentioned already, a lot of people play social casino games in the background while doing something else. If that is what you are looking for, yes, you probably will prefer social games.
But if you are looking for something that will engage you at a level where you don't feel a need to be doing something else to stay entertained, then you will likely love real casino games.
You Will Learn More About Life, and More About Yourself
Another advantage of playing real casino games over social casino games is the chance to learn important life lessons.
In many respects, gambling with real money mirrors the experience of life in general, where a combination of luck and skills determines your outcomes.
What you learn about managing risk, coping with losses, and challenging yourself to win may give you insights that change how you approach other aspects of your life.
Along the way, you may also delve deeper into your own psychology, better understanding your motivations, strengths, and weaknesses and how to manage them.
But you will have none of those rewarding experiences playing social casino games, because you are not confronting the same risks, nor is there any possibility of financial reward.
You Will Get Much Better Bragging Rights
Do you enjoy leaderboards and the other social aspects of social casino games? If so, you probably will ultimately get a lot more satisfaction when you play real casino games.
Nothing beats being able to boast about winning a real jackpot, or being able to brag about beating players at a real poker table.
In fact, you will soon find yourself laughing when you see your friends posting on their feeds about their wins in rigged social casino games that will never pay them a dime!
You Get the Advantage of True Transparency
You'll be dealing with a company that actually treats you fairly.
As we have talked about already, one of the worst things about social casino games is their utter lack of transparency. They are deliberately misleading.
Unlike social casino games, real casinos are subject to government oversight.
Not all casinos are regulated, but you can choose to gamble at those which are, and which abide by the laws of the countries where they are based.
When you play at a real, regulated casino, here is what you can expect:
Games that produce random results using random number generators (RNGs). There will never be any "Dynamic Game Balancing." The RTP for the game you are playing will never "adjust" as you are playing it. It will remain exactly the same the entire time.
Third-party testing of games to check that they are fair. An example of an accredited third party that conducts these sorts of tests is the Technical Systems Testing (TST), an Accredited Testing Facility as approved by the Alderney Gambling Control Commission (AGCC) in the UK.
The casino will follow the laws of its governing regulator in order to maintain its license. You will have the ability to look up records of complaints if they are on file, or to file your own if necessary.
The casino will blatantly declare any or all fees (i.e. for deposits or withdrawals). They also will post terms and conditions for bonuses and promotions.
If you have any problems, customer support will be there to address them directly.
The casino will be honest about the nature of its products. It will never attempt to fool you into thinking you are engaging in an activity that is without risk, and will never alter the results of its games to try and keep you hooked.
Playing at a crypto casino? Many Bitcoin casinos have a feature called "Provably Fair." You can use this feature to demonstrate to yourself the randomness of the game results firsthand.
Key Point: Playing real casino games at actual online casinos that are regulated offers many advantages over playing social casino games. You have a chance to win real money, but you also are learning valuable skills, dealing with a company that is operating transparently, and are enjoying a more exciting, engaging experience overall.
Things to Know if You Are Transitioning from Social Casino Games to Real Casino Games
If you are going to sign up at an online casino and this will be your first time playing real casino games after playing social casino games, let's go over some important things you should keep in mind for a smooth and rewarding transition.
For the first time, you will experience true randomness in results
The most important thing to know is that this will be the first time that you will experience true randomness in casino games. Previously, you were playing games that simulated the casino experience, but did not reflect its true nature.
If you are able to keep that in mind, it will help you with understanding the other points that we are going to go over below.
Real Winning and Losing Streaks Are Possible — and May Continue Longer Than You Expect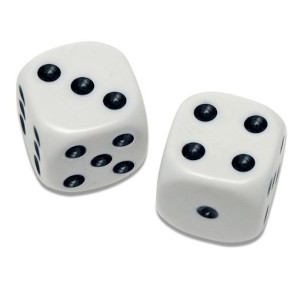 Things will not always "balance out."
While playing social casino games, your experience was probably this:
If you were losing a lot and getting frustrated, suddenly, you would start winning more, and you would feel better.
If you were winning a lot and getting bored, suddenly you would start losing more.
This was Dynamic Game Balancing at work, a very not-random part of the algorithms powering the social casino games you played.
This algorithm would limit your winning and losing streaks, keeping them from going on too long.
What constituted "too long" depended on the behavioral analysis that the programmers used to help inform their algorithms.
But when you are playing real casino games, they are programmed to produce random results, not to adjust themselves to attempt to balance your experience or cater to your emotions.
That means that you may experience losing streaks that last far longer than those that you experienced playing social casino games. Your frustration could build up quite a bit more than you are used to.
Similarly, you could experience winning streaks that go on surprisingly long sometimes—so, that is the plus side.
Tip: Consider Starting With Low Volatility Slots
There is an important concept to be aware of for slot machines, called "volatility," or "variance."
Slots with high volatility tend to deliver larger payouts, but also pay out less frequently.
Slots with low volatility tend to pay out more frequently, but deliver smaller payouts.
I recommend that if you are playing real slots for the first time after playing social casino slots, you stick with those that are low in volatility.
Why? Because even though you may still experience winning and losing streaks, on the whole, long dry spells are less likely with these types of slots.
They also provide an experience that is a bit more "level" emotionally—think about it a bit like riding a rollercoaster with relatively shallow peaks and valleys, rather than lots of crazy ups and downs and corkscrews.
It will be a less dramatic change from what you are used to, even though the results will be truly random.
Once you have become used to playing low volatility slots, you can try playing some high volatility slots as well to see if you like them.
You have been trained into believing in the Gambler's Fallacy
Since you have not been playing real casino games, chances are good you have not learned much about the cognitive distortions that gamblers can experience. The most famous of these is the Gambler's Fallacy.
The Gambler's Fallacy is reflected in the following statement:
If event X has been happening with reduced frequency in the recent past, it will happen with greater frequency in the near future.
This translates to the following beliefs when playing slots:
If you have not won a payout in some time, you are "due" for a win, and your luck will change soon.
If you have been wining a lot, your luck is bound to turn around soon, and you will start losing.
The Gambler's Fallacy just seems to make sense to our brains. In fact, many gamblers are prone to believing in it even if they have never touched social casino games in their lives. For that matter, a lot of people who have never even gambled before in any capacity have this belief.
The reason that the belief is fallacious is because with real games of chance, we are talking about an event (i.e. slots or roulette) that involves independent trials with random outcomes.
Thus, there is no causal link from one spin to the next. So, whatever happened on the previous spin that you took has no impact whatsoever on what will happen on your next spin.
But here's the thing. If we are talking about social casino games, Dynamic Game Balancing means the following is true:
If you have not won a payout in some time, you are "due" for a win, and your luck will change soon.
If you have been wining a lot, your luck is bound to turn around soon, and you will start losing.
But the reason that these things are true is because you are not playing a true game of chance with independent trials and random outcomes.
But the game you are playing still tries to convince you that you are, as its appearance is so similar to that of a real slot game.
Knowing all of this, you should be able to remind yourself when you start playing real casino games that the Gambler's Fallacy is a fallacy.
But the illusion that it is true will be stronger for you than it is for someone who has never played social casino games.
Thus, you may need to remind yourself of it frequently.
As an example:
Imagine that you have been suffering a bad losing streak while playing a real slot machine.
During your previous experiences with social slot machines, you could actually count on your "luck" to turn around. So, it can be very difficult to resist the feeling that a change in fortune is right around the corner.
You will need to remind yourself that it wasn't really "luck" at all that changed when you were playing social casino slots in the past. The game was programmed to change your outcomes.
So, you will need another rule to help you decide when it is time to call it quits, whether by switching to a different game or stopping altogether for the day. And that brings us to the suggestion below.
Money Management is Essential
When you play social casino games, there is no money at stake. So, you can play for as long as you want, taking as many spins as you like. Whether you are winning or losing is irrelevant. You just play until you get bored.
But it does not work that way with real casino games, unless you are playing the free versions.
If you have real money on the line, you need to budget your gambling expenses.
A good starting point is to figure out how much money you can afford to lose on gambling each month. You should only play with money that you do not need for rent or other necessary expenses.
That determines your total bankroll for the month.
You will then need to come up with a way to manage that bankroll.
Let's say, for example, that you just want to play slots. How many slot spins would you ideally like to be able to take before you run out of money?
To keep your calculations simple, you could even run the math with the assumption you will lose every spin (highly unlikely).
You could crunch the numbers with a variety of stake sizes, and see how they compare to one another for different games you are interested in.
Based on your results, you can choose which games to try, and what stake sizes to go with.
That way, you can extend your bankroll to provide you with plenty of enjoyment before it potentially runs out.
Once you get the basics down, you should find that money management is pretty easy and straightforward.
After you come up with your money management rules, the important thing is to stick with them.
That means that if you are running up against the limits of what you are willing to lose for the day according to your plan, you should stop playing.
This is easier to do when you understand that the Gambler's Fallacy is a fallacy, and that a truly random game will not "balance" things out (except by total coincidence).
There is really no way to know when a losing streak will end, so it is best to cut your losses at a certain point.
Managing Your Expectations Will Give You the Best Experience
Everything I have told you above really comes down to one thing: aligning your expectations with reality.
When people have bad gambling experiences, I think it is usually because their expectations are unrealistic.
And it is easy to walk into real gambling with unrealistic expectations if you have only played social casino games.
But now that I have helped you to adjust your expectations, that does not need to happen.
That means:
You will not walk into real gambling expecting easy wins and ridiculously high payout ratios, and then get disappointed when it does not happen.
You will not expect that every time you have a losing streak, it will necessarily turn around.
You will not expect that every time you are doing well, it will necessarily all fall apart.
Instead, you will have realistic expectations:
You will learn about real-life return-to-player rates, and will understand what the percentages you see mean.
You will know that losing streaks can go on uncomfortably long, and you cannot count on a magical algorithm to suddenly turn things around.
You will know that you will not be "punished" by an algorithm for getting lucky. Your luck can turn around at any time, but it is not some kind of default.
You will know that you and you alone are responsible for managing your money. How long your bankroll lasts is up to you based on the choices you make about stake sizes, which games to play, and how long to keep taking spins.
The Emotional Highs and Lows Might Catch You Off Guard
Finally, one more thing to be ready for is how different the experience of real gambling is from an emotional standpoint.
When you played social casino games, you probably found them relaxing, and did them while watching TV or doing something else.
For a lot of players, real casino games are also very relaxing, especially those like slots that do not take a lot of thought.
But they can also be exciting! When you are on a winning streak, you can feel like you are on top of the world. When you win a major jackpot, it might mean you can go on a shopping spree, pay off a loan, or maybe even change your life.
You are never going to experience that kind of exhilaration when you are playing a free game.
Of course, playing real casino games also means being exposed to other emotions in a much stronger way: frustration, fear, and anger.
Both the positive and negative emotions may catch you off guard. And if you become emotionally dysregulated, you could go on tilt.
Tilting is when you keep doing things to try and feel in control that just take away more and more of your control.
An example would be continuing to take spins to try and "win it all back" while still losing money — and maybe even wagering bigger stakes and losing faster.
When your expectations are out of line with reality, that is when you will feel the sharpest schism between what you think you will feel and what you actually feel.
Plus, incorrect expectations tend to reflect incorrect beliefs. So, when you end up losing when you thought you would be winning, you can feel confused. That confusion can just amp up negative emotions.
But that is exactly why we have spent so much time talking about the differences between social casino games and real casino games, helping you align your expectations and correct any false beliefs you might have.
That way, when you go to play real casino games, you will be a lot less likely to be overwhelmed in a negative way by your emotions if you your luck sours.
You will be able to make smarter decisions about your bankroll as a result.
That gives you the best chance of lasting through a losing streak long enough for things to turn around.
Key Point: The emotional highs and lows of gambling with real money may come as a surprise when you transition from social casino games to real ones for the first time. You also will need to learn to manage your bankroll and align your expectations with reality. But if you can do that, you can enjoy a more rewarding experience with the chance for real winnings.
Find Quality Casino Sites to Play for Real Money Now
Now you know all about social casino games and the ways in which they differ from real casino games.
Social casino games may have some appeal, but only real casino games give you a chance to play for real money.
Plus, only real casino game are transparent and truly random.
If you are tired of being mislead by social casino games, and ready to give yourself the opportunity to win cold, harsh cash, have a look at our recommended online casinos.
And if you'd like something else to read, check out these articles as well!